Site Launch – Direct Inspect – Building & Pool Inspection Services – Sunshine Coast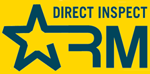 In November we launched the new site for the team at Direct Inspect.  They are an established independent business based on the Sunshine Coast providing building inspection services throughout South East Queensland. Rob & his team are passionate about building a rapport with customers and offering them a range of services to include building inspections, pool safety inspections, building defects reports and site and project management services.
It's not just Rob's wealth of experience and competitive pricing that sets him apart; he still works and practices as a licensed registered builder in between personally conducting your property inspections. This highlights his ongoing commitment to quality and remaining up to date with the most current Queensland Building Act, Regulation and Codes and Australian Standards.
Importantly for those of us with pools on the Sunshine Coast, the team at Direct Inspect are well versed in the latest pool safety standard, the Queensland Development Code Mandatory Part 3.4 which replaces 11 different pool safety standards.  Rob is also a proud member of the Queensland Master Builders Association so he can conduct the mandatory pool safety inspection and perform any works necessary to assist pool owners to comply with the new pool safety standards.